Chris Bryant's Binary And Subnetting Mastery Workbook
The #1 obstacle for you on the CCENT, CCNA, CCNP, and various other Cisco certification exams:  Questions on binary math and subnetting.
The #1 solution:  My Binary Math and Subnetting Mastery Guide — available only on Amazon, and to celebrate our new website launch, you can grab your copy for just 99 cents!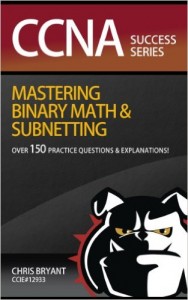 Don't just take my word for it — here's what my Amazon students have to say!
"This is simply the most easy to follow subnetting material I have read. If you're struggling with subnetting or binary math, get this ebook and be confused no more. Chris is excellent in his ways of teaching the material."
"I literally had a mental block with the topic of Subnetting. I used Chris Bryant's method, which goes back to the basics and what really matters of this subject. No tricks, no short-cuts! just the facts.  Chris is simply a blessing!"
"I tried a few techniques from other sources but found Chris' instructions much easier to follow and comprehend. Excellent job!"
You don't need tricks.  You don't need charts.  What you do need is clear, comprehensive instruction and plenty of practice.   Right now, for just 99 cents, you get both.   Grab your copy right now — I guarantee you'll be happy with it!
Chris Bryant
CCIE #12933
"The Computer Certification Bulldog"