Pass CCNP SWITCH 300-115 With Chris Bryant's Study Guide!
I'm proud to announce my CCNP SWITCH 300-115 Study Guide is available in both hard copy and Kindle versions, exclusively on Amazon!   My crystal-clear explanations on Cisco switch concepts have helped CCNP candidates just like you earn their CCNP for over ten years, and this book is my best SWITCH work yet.
Amazon customers agree — as of August 1, 2016, this is the highest-rated CCNP SWITCH Study Guide on Amazon (4.8 / 5 stars).
To make a good offer great, I'm giving you the ebook version FREE when you purchase the hard copy on Amazon via this link!   
CCNP SWITCH 300-115 Study Guide From Chris Bryant
(The ebook version is also available through that link.)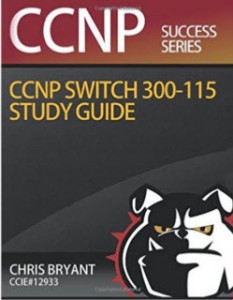 (Ebook version also sold separately on that same page.)
Here are just a few of the reviews on my CCNP SWITCH guide, all from Amazon reviewers:
"I've been a CCNP R&S and CCNP Security for a few years now, having used TBA for my R&S. I purchased this book to keep current with the latest exam changes, and I must say I find it much better than Cisco documentation." 
"Chris is a great teacher; I like the way he presents the content, which is ready good."
"I've been using Chris's materials for a number of years and have always found them to be very informative and a great value." 
"Incredible study guide. Cuts out all the fat and is such an easy way to learn. Grateful for this series of books."
Join these satisfied students and let's get started on your CCNP SWITCH pass — right now. Follow this link and let's get started!
Chris Bryant's CCNP SWITCH 300-115 Study Guide