CCNP ROUTE 300-101 and TSHOOT 300-135 Tutorials
Whether you're working on your CCNP ROUTE 300-101 or TSHOOT 300-135 success, these free tutorials and labs will really come in handy.
The EIGRP Fundamentals tutorial series is complete and linked below.
A massive route redistribution tutorial series began August 1, and I'll post a new tutorial in that series every day until it's completed.
_________________________________________________________
Chris Bryant's CCNP ROUTE Study Guide on Amazon
Cisco Press CCNP ROUTE Study Guide on Amazon
Check 'em both out!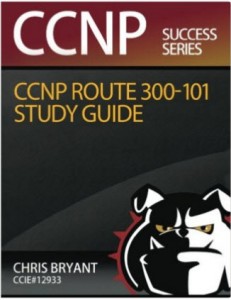 __________________________________________
Route Redistribution For The CCNP ROUTE And TSHOOT Exams:
Tutorial 1:  Route Redistribution With Only One Protocol
Tutorial 2:  RIP Redistribution And The Seed Metric
Tutorial 3:   Redistribution And Administrative Distance
Tutorial 4:  The distance And distance ospf Commands
Tutorial 5:  Redistributing RIP Into EIGRP
Tutorial 6:  Distribute-Lists and Route Redistribution
Tutorial 7:  Filtering EIGRP with Distribute-Lists
Tutorial 8:  EIGRP And Multiple Distribute-Lists
Tutorial 9:  Controlling Redistribution with Route-Maps
Tutorial 10:  Route Redistribution and Tagging
EIGRP Tutorials For The CCNP ROUTE And TSHOOT Exams:
EIGRP Adjacencies (Creating and Troubleshooting)
EIGRP Equal-Cost Load Balancing
EIGRP Unequal-Cost Load Balancing
More EIGRP Lab Work:
EIGRP Lab #1:  Lab Fundamentals and Split Horizon Problems
Thanks for coming by! — Chris B.