Free CCNA 200-125 / CCENT 100-105 Videos And Tutorials
Welcome to a brand-new series of Bryant Advantage CCNA and CCENT videos and tutorials!   There will be at least one new video and/or tutorial posted here five to six times a week beginning May 4, 2017.     Be sure to join my mailing list at the top of this page to get a once-a-week update on those free study materials!
These posts will include a new series of Video Practice Exams as well as practice exams in the traditional written format, along with new 5-Minute Video Boot Camps.    (All tutorials marked "CCNA" in the links are great for your CCENT studies, too!)
The latest tutorials and videos are at the top of this list.  Enjoy! — Chris B.
CCNA Video Boot Camps:
Practice Tests:
Tutorials and Labs:
The Password Encryption Service
"Reversing" Password Encryption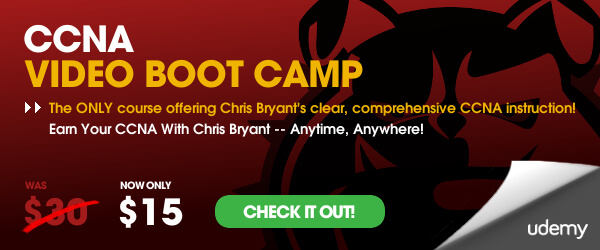 When you're done here, check out my all-new CCNA 200-125 Video Boot Camp.  Not only do you get in for a ridiculously low price with this banner — even lower than the one shown on the banner! — but you get my CCNA Security course absolutely free!
Hey, there's a reason this is the best-selling and highest-rated CCNA course on Udemy! Head on over and let's get started on your CCNA exam success!
Chris Bryant's CCNA Video Boot Camp (with free Security course!)